Film Language Tag: in-camera dissolve
The [in-camera] dissolve is sliding double exposure originally produced within the camera by rewinding the film slightly between shots. Cutting, James E., et al. "The Changing Poetics of the Dissolve in Hollywood Film." In Empirical Studies of the Arts. Vol. 29(2) 149-169, 2011.
2 Film Clips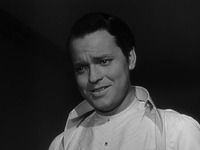 The staff of The Inquirer celebrate the success of their newspaper with a party hosted by Kane.
Kane's residence, Xanadu, is established as the setting and Kane speaks his dying words.
0 Series Clips