Film Language Tag: real time
The actual time it would take for an event to occur in reality, outside of filmic time. In the works of modernist directors such as Michelangelo Antonioni and Miklós Jancsó, real time and filmic time often coincide for long sequences, although not usually during the entire length of the film. Cook, A History of Narrative Film, 5th ed.
3 Film Clips
Thomas further enlarges the photograph of the person hiding in the bushes.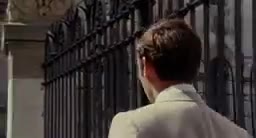 Thomas secretly takes photographs of the couple in the park, but gets caught by the woman.
0 Series Clips