Film Language Tag: bullet time
Also called Flow-Mo. Pioneered by Wachowski siblings in The Matrix (1999), it is a technique that enables filmmakers to change the speed of moving objects in progress. First, an actual movement is filmed and scanned into a computer to create a wireframe of the person or the object from which its trajectory is mapped. Then a battery of still cameras is placed along this path, and the movement is photographed again as a series of sequential stills. These are scanned into the computer, which arranges them in the manner of a film strip so that they can be digitally manipulated to reproduce the movement at varying speeds. Cook, A History of Narrative Film, 5th ed.
3 Film Clips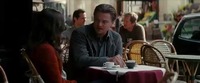 Ariadne first learns about the dream world and bends buildings.
Trinity battles policemen and agents as she attempts to flee the Matrix
Ricci goes to find work at the unemployment office.
1 Series Clips
While looking for supplies Anthony uncovers a violent drone dog.