Memento (2000)
Leonard Shelby is tracking down the man who raped and murdered his wife. The difficulty of locating his wife's killer, however, is compounded by the fact that he suffers from a rare, untreatable form of short-term memory loss. Although he can recall details of life before his accident, Leonard cannot remember what happened fifteen minutes ago, where he's going, or why.
3 Kinolab Clips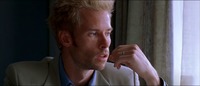 Leonard's commitment to vengeance is disclosed through his tattoos.
Contributor: Allison Cooper
Leonard wakes up in a room filled with his wife's belongings and has a flashback to her assault.
Contributor: Allison Cooper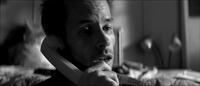 Guilt surfaces, as Leonard and Sam are revealed to be the same man. Leonard has a wife with diabetes and so does Sam: both accidentally poison their wives.
Contributor: Allison Cooper