Film Language Tag: counterpoint
Using sound to indicate a different meaning or association than the image. Corrigan and White, The Film Experience: An Introduction, 5th ed.
3 Film Clips
Sam helplessly witnesses the attempted murder of Monica Ranieri.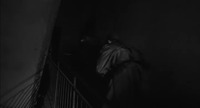 The officers shoot people hiding in the ghetto while another officer plays Mozart.
0 Series Clips