Film Language Tag: act 3 (three-act structure)
Act 3 of a narrative is typically devoted to resolution, allowing the time and space for characters, relationships, and plot details to reach a conclusion narratively. (adapted from Bruce Block, The Visual Story) Adapted from Block, Bruce. The Visual Story: Creating the Visual Structure of Film, TV, and Digital Media, 3rd ed. Routledge, 2020.
2 Film Clips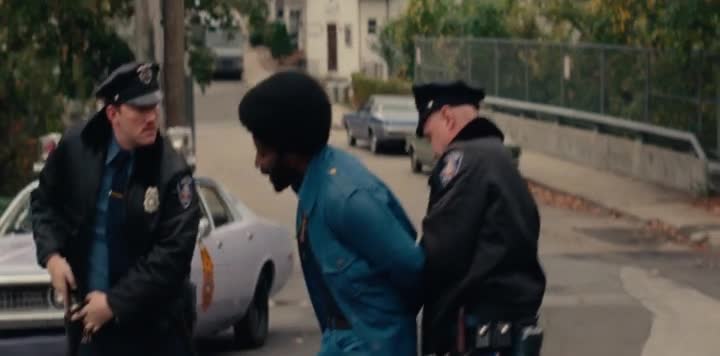 Ron Stallworth (John David Washington) runs to stop Connie Kendrickson (Ashlie Atkinson) from bombing Patrice Dumas's (Laura Harrier) home. Ron gets stopped by the police for catching Connie and unknowingly, Felix kills himself, Ivanhoe, and Walker by pressing the button to the bomb while parked right next to the car.
Jerome Turner (Harry Belafonte) recounts the lynching of Jesse Washington at a Civil Rights rally as it is cross cut with Philip Zimmerman's (Adam Driver) - posing as a white version of Ron Stallworth (John David Washington) - induction into the KKK. Turner describes in detail the murder and we go back and forth between this and David Duke's (Topher Grace) white nationalist speech. All the while, Stallworth is watching the induction ceremony happen from a window.
1 Series Clips
Monica (Courteney Cox) voices her frustration with Phoebe (Lisa Kudrow), Chandler (Matthew Perry), Joey (Matt LeBlanc), and her brother Ross (David Schwimmer), over man's unsavory tendencies. Rachel (Jennifer Aniston) cuts up her credit cards after being persuaded by her friends.