Film Language Tag: source music
Diegetic music; music whose source is visible onscreen. Corrigan and White, The Film Experience: An Introduction, 5th ed.
3 Film Clips
Umberto passes a feverish night as he struggles to find a solution to his problems.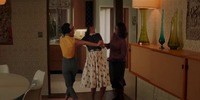 Dorothy takes her children to the library for a book on computer programming.
The officers shoot people hiding in the ghetto while another officer plays Mozart.
0 Series Clips